Cassioli has installed a new automatic finished product warehouse for pallet
Cassioli has developed a new automated warehouse for SACI, a major player in the field of detergents for household and professional use that operates internationally. Since 1925, the Umbrian company has had an integrated production system, ranging from collection and refining of fats to chemical saponification, up to the sale. Today the company supplies some giants of retail chains and has exports accounting for 30% of revenues in the major European countries.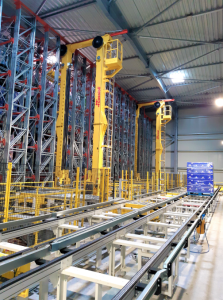 SACI has chosen Cassioli for the construction of an automated warehouse for the storage of finished products placed on pallets. The customer need was to have an integrated system that would allow a pre-organization of the pallets to be shipped in the dispatch area.
The warehouse therefore had to be divided into 3 independent parts, each one provided with a stacker crane, so as to have greater flexibility and ensure continuous operation even in the event of partial damage.
The customer also requested that the existing ground warehouse be reorganized and integrated with the new automated warehouse.
Cassioli, taking into account the customer needs, designed an automatic storage system consisting of 3 ICRANE stacker cranes with pallet shuttle ISAT for multi-depth storage.
Thanks to this configuration, the 3 areas of the automated warehouse are independent and work in such a way as to guarantee the continuous operation of the system in the event of faults or when maintenance is required.
Together with the storage system, Cassioli designed and supplied handling lines consisting of automated roller and chain conveyors that manage the entry and exit of goods to/from the warehouse.
Moreover, Cassioli solution features a double entry control system capable of verifying the type of pallet and reading the bar code. This system is also able to identify coupled Düsseldorf pallets, and to ensure that service pallets (Europallet) are inserted under them before entering into the warehouse.
In addition, it was satisfied the need to connect the new automated warehouse with the existing ground warehouse, with a storage capacity of about 6.000 pallet. All this was achieved by integrating the Cassioli WMS management software with the one used by the customer.
The solution implemented by Cassioli has allowed SACI to increase storage capacity, making the most of the available surface, and to have two types of warehouses connected via software.
It should also be mentioned that the new automatic system has made it possible to speed up the production process and significantly reduce the risk of operational accidents thanks to the use of fully autonomous machines.
DOWNLOAD THE SACI CASE STUDY
https://www.cassioli.com/wp-content/uploads/2021/03/72.jpg
617
468
Giulia Conti
http://www.cassioli.com/wp-content/uploads/2023/01/Logo-Cassioli-80-anni-DEF.png
Giulia Conti
2021-03-11 10:49:03
2021-03-11 16:09:28
SACI has assigned the construction of its new automatic warehouse to Cassioli