An innovative automatic system for the handling and storage of raw materials has been installed at the Empoli production site
Cassioli realized the new automated warehouse of Sammontana, one of the most important Italian food companies, specialized in the production of ice cream and frozen croissants. The Italian company, founded in Empoli in 1946, where it is still based, holds 20% of the Italian industrial ice cream market and about 40% of the frozen croissant market.
For its main office, Sammontana turned to Cassioli for the construction of an automated warehouse for raw materials within a new rhomboid-shaped building area. The real challenge for our company was to design an automated warehouse making the most of the available space, difficult to manage because of the peculiar shape.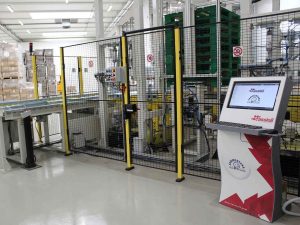 Thanks to the acquired know-how and the investment on the research of increasingly advanced, sustainable and modular technologies, over the years Cassioli has in fact become one of the leading companies in industrial automation for Food & Beverage, with customized solutions for the storage and the handling of products and semi-finished products, capable of perfectly adapting to any type of environment.
After a careful analysis of Sammontana needs, Cassioli designed a storage system consisting of 4 double-depth stacker cranes and a special ICRANE stacker crane with ISAT pallet shuttle, which made possible to make the most of the usable space thanks to the multi-depth storage of pallets.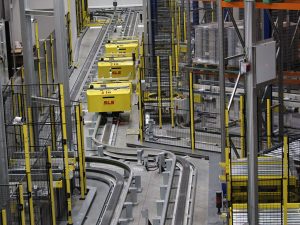 In addition to the automated warehouse, Cassioli has developed an efficient handling system, consisting of automatic conveyors, RGV – Rail Guided Vehicles – and special elevators that have allowed to move the pallets on different levels of the warehouse. The RGVs, which move within a closed circuit, are used with a dual function: on the one hand they allow to fill the warehouse, at the entrance, and on the other hand, to pick up the pallet, at the exit. Not just automation and storage systems.
Cassioli has also supplied Sammontana with an innovative fire-fighting system with related tank and water reserve that feeds it: specifically, a sprinkler system with internal and external hydrant network, pumping station and smoke detection systems, in accordance with the current regulations.
The partnership with Cassioli has therefore allowed Sammontana to increase storage capacity by 100%, thanks to the full exploitation of the new available area, as well as to speed up the production process and significantly reduce the risk of operational accidents due to the use of automated machinery working in full autonomy. It is also important to emphasize that all the systems installed fully meet the prerequisites of "Industry 4.0." (control via PLC; interconnection to factory IT systems; integration with the factory logistic system; simple and intuitive man-machine interface; compliance with the latest standards in terms of safety, maintenance, service and remote control).
DOWNLOAD THE SAMMONTANA CASE STUDY
https://www.cassioli.com/wp-content/uploads/2020/11/sammontana-cassioli.jpg
960
1280
Serena Brini
https://www.cassioli.com/wp-content/uploads/2020/04/logo-cassioli_03.png
Serena Brini
2020-12-02 09:07:49
2020-12-02 09:11:30
Sammontana chooses Cassioli for its new automated warehouse